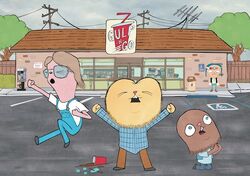 The Gulp-N-Go is one of the locations in the series Out There. The Gulp-N-Go is a convenience store that features a wide variety of merchandise. The Gulp-N-Go also contains an arcade.
Employees
Edit
The arcade is a subsection of the Gulp-N-Go, at various points in the show it can be seen containing the following games:
Also located within the Gulp-N-Go, is a stand called The Unicorner, which is run by Kelly Blahdell. This stand sells collectible unicorn figurines.
Items Sold
Edit
Adult Magazines
Edit
Newspapers
Edit
Ad blocker interference detected!
Wikia is a free-to-use site that makes money from advertising. We have a modified experience for viewers using ad blockers

Wikia is not accessible if you've made further modifications. Remove the custom ad blocker rule(s) and the page will load as expected.