About the Show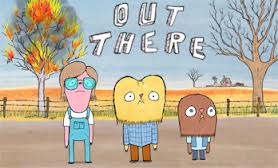 Out There chronicles the coming-of-age misadventures of socially awkward Chad, his little brother Jay, and his best friend Chris. Living in the small town of Holford, the boys wander its surreal, bleak landscape waiting out their last few years of adolescence. Along the way, viewers meet Chad's conservative parents, Wayne and Rose, as well as Chris's single mother, Joanie, and her disastrous boyfriend, Terry. They also meet the object of Chad's affection, Sharla.
Countdown to Next Episode
Keep checking for renewal updates and remember to watch reruns on IFC!
Most Recent Episode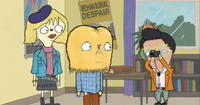 April 19, 2013
Chad's classroom doodles draw the attention of the "cool kid" yearbook staff, who invite him to join their inner circle. Chad and Chris enjoy their popular status until Chad discovers their new friends have ulterior motives.